Lawn aeration is one of the most important operations and a vital ingredient for a healthy vigorous lawn. This task is carried out with a lawn aerator which creates air channels into the root zone allowing air to pass into the soil. A lawn aerator can be either a hand held tool such as a garden fork or a complex powered machine. Which ever type you use the objective is exactly the same, which is to increase the amount of air space in the soil or root zone, very important for a healthy lawn. This has the following benefits for the lawn:
Relieves compaction.
Reduce thatch build up and helps with the breakdown of thatch.
Improves drainage.
Increases drought resistance.
Promotes desirable grass species such as Bent & Fescue.
Hollow tining helps to improve the soil structure when used in conjunction with top dressing.
For more information on the benefits of this lawn care task please visit our lawn aeration page.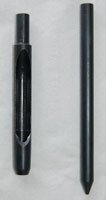 The two most common tines used, on the left a hollow tine and on the right a solid tine.
There are many types of lawn aeration used throughout the turf care industry, some use conventional tines, others inject air and water into the soil. However we will concentrate on the two most common operations used on lawns, these are solid tining and hollow tining.
Solid tining - Also known as spiking is the most common type of lawn aeration and can be carried out with a garden fork or purpose built lawn aerator. This type of aeration does not remove any spoil, it just creates air channels into to root zone. The depth of penetration can be varied depending on what want to achieve, a typical depth being about 4 inches or 100mm.
Hollow tining - This type of aeration actually removes cores of thatch/soil from the lawn and is often carried out as part of an autumn lawn care program. Ideal for a thatch removal program and prior to top dressing a lawn. More labour intensive than spiking as the spoil has to removed from the lawn.
For more information on the timing and benefits of these two lawn aeration techniques please visit our lawn aeration page.